Yesterday some cool toys made their way through the post. Jen had backed the TT Combat Kickstarter to get hold of a bunch of laser cut terrain. It's pretty stuff, we didn't dive straight in an build the lot because we were doing other projects, but Jen stuck together a windmill to see what some of it was like. Inspired by this I thought today I would review my thoughts on Kickstarters.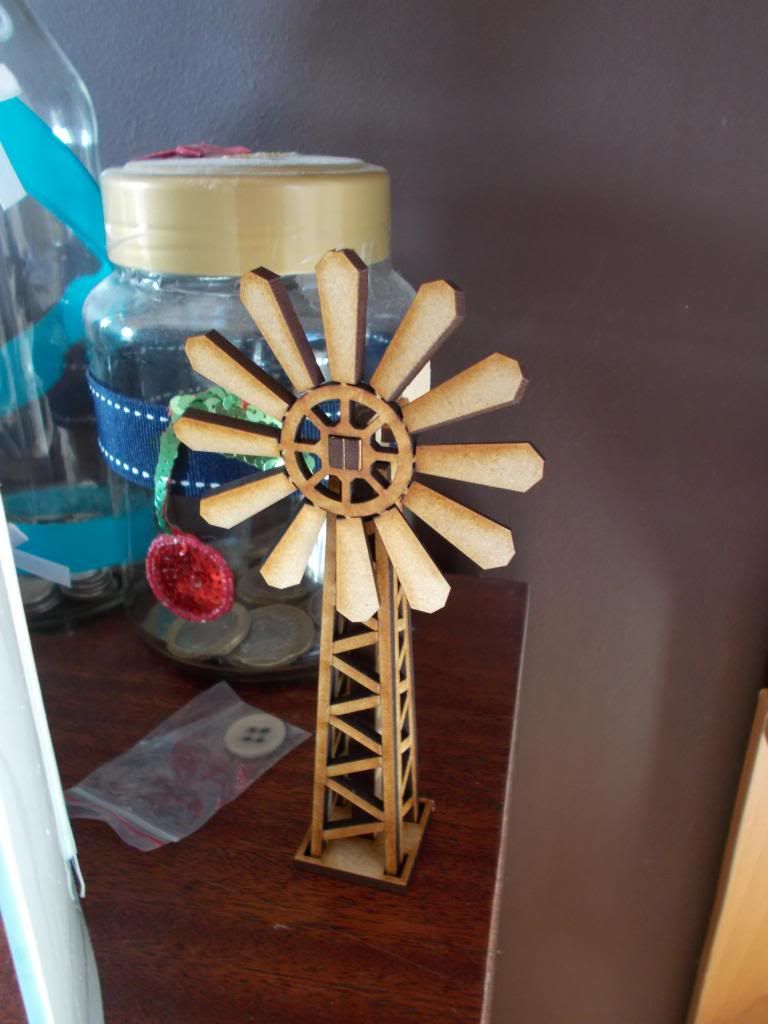 Personally, I am a big fan of Kickstarter. It allows smaller gaming companies to expand their produce lines and inspires some fantastic creativity. There have been many criticisms voiced, however, by some of the people I know and these revolve around the following points. The companies don't really need the money. It's a risk. Delays.
The Companies Don't Really Need the Money:
This was first raised to me when the AVP miniature project began. Lots of people were excited, but a few people claimed that because they had to have bought the liscencing they had to have the funds to continue onto the main product. It's true that in order to establish almost any Kickstarter you will need to have made significant investment already. People will need to have commissioned sculptors, artisits etc. in order to make a product that would work on Kickstarter. That is very different to having enough money, however, to create a finished product. The response to this is would people really risk that money? The answer to this is yes, business is, to some extent, risk. However, what Kickstarter also provides is a reduction in risk. If you want to make a figure you need to make a mold. If you intend to make many models you need to make many molds. Kickstarter not only provides you funds to make a mold, but also information to extrapolate on how popular you product is likely to be and thus how many molds are worth making.
I must admit there are some companies who likely do not need this money, Mantic is the one that springs to mind, but I don't think they are the norm, nor is it unreasonable to assume that even these companies can expand further than they originally thought with additional funding.
It's a Risk:
A Contradiction when you consider the above is the point that Kickstarters are a risk. You have no idea how the finished product is going to turn out, or whether you are going to get a finished product at all. This is true, you are effectively investing in a new project, but the point of Kickstarter is not to back someone from the point go, but allow them to overcome the last hurdle into production. Miniature Kickstarter pages often have sculpts, prototypes, artwork and background. I personally don't back something if it doesn't give me enough information about what I will get. Yes, sometimes things go wrong. Companies go bust before they can finish, for example, but that is why companies provide discounts for people who back the product. You are essentially being rewarded for your faith. If you don't want to take a risk, fair enough, but no risk, no reward as the say.
Delays
I am personally shocked that people are so concerned with this. Again, it sort of contradicts the first point made, but some people get very bothered by the fact that Kickstarters often have delays. It's not as good as buying something in a store and being able to use it straight away. If that bothers you, I believe you have a very strange way of looking at Kickstarter. For me it allows me to help create something new, it is not simply an online store. Often there are problems with production and you can wait for years past the original suggested delivery date. You don't get that in a store because they are not making something new. The counter point to that is that the companies on Kickstarter should have a better idea of production times, but for me the whole point is that they do not have the experience and funds for manafacture. Yes, they should do some more research, let people know that their stretch goals will delay production, but it doesn't make me even blink. My thoughts are that if there were no delays, they probably didn't need Kickstarter.
Having said all this, however, I do have two main problems with Kickstarter. First of all, I don't like not knowing whether there will be people keen on playing the game in the area. I also don't like the fact you are not supporting your local hobby centre.
Although being involved in something new is exciting, you have no idea how well it's going to take with local gamers. As I have said before, I'm a gamer; if I don't play, I don't paint. You could suggest that having the forums and twitter you can keep in contact with people who are keen. you could also team together with your club to back a Kickstarter together, which also generally works better financially. This is where the problem of delays kicks in, however. Gamers are notoriously fickle and by the time something is delivered people may no longer be interested. It's not going to stop me, I guess I'm just an optimist, but it's a worry.
The big gripe for me is not being able to support your local store. For example, The guys at my local
Worhamma
are really nice. They put on gaming sessions on Thursday and Sunday evenings, they are more than helpful with your orders and make a massive effort to keep the gaming community in the area exciting. The local league has now had over 100 games and that kicked off in no small part because of the support of Worhamma. (seriously, if you are in the Sunderland area come along, it's well worth it). They can only keep doing that if people buy things from them. If they can't support themselves financially they will close down and then a brilliant place to game and meet new gamers will be lost. Any money spent on Kickstarter is not spent on toys from them and that bothers me. There is a new purely gaming Kickstarter called
GamingFunder
that apparently can be paid for through your LGS, but honestly it's not something I have looked too much into.
At the end of all this nitpicking with this new gaming phenomenon I still find myself entranced. I guess after all I am just a big kid and I really like the idea of getting brand new toys.
Well that's it from me today. I will try and get some pictures of finished MDF stuff when it's built, but it's not mine but Jen's so I can't make promises on when that will be. Until tomorrow.